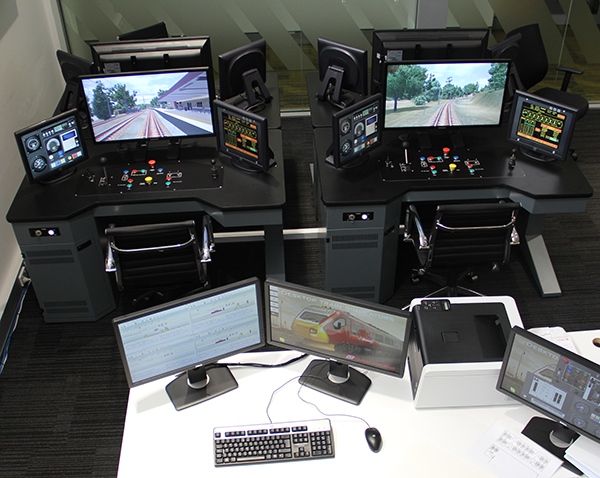 Are you installing or refitting a training room equipped with compact simulators? Here are some tips to ensure a comfortable working environment and high-quality learning.
Calculate your room's maximum capacity
Our clients' instructors work with between one and ten trainees at once, each with their own compact simulator; there are four trainees on average.
Your training room may also need to accommodate observers: additional trainees, trainee instructors, examiners performing certification, and others. Based on those operators we know best, there may typically be between three and ten such people.
Taking the two extremes, training rooms will thus be used by anything from 21 to a minimum of 5 people (1 instructor, 1 trainee, and 3 observers). Each needs to be comfortably installed and be able to move around without having to squeeze past obstacles.
Make sure everyone has enough space
Simulators can be placed up against walls to leave a large central area free. The problem with doing this, though, is that trainees will not be facing instructors for explanations and discussions. Our clients have tended to experiment with alternative layouts: staggered rows, circles, half-circles, and so on, depending on our recommendations.
If needs be, we can make the consoles a few centimetres narrower to fit everything in, even if the tradeoff is having a little less realism.
The fact is that determining the ideal surface area calls for the question of layout to be studied in depth. As a guideline, for a good configuration, a room for 1 instructor, 5 trainees and 5 observers needs to be at least 5 m by 9 m.
Don't forget the HVAC
Everyone knows that it's a good idea to air a meeting room after a couple of hours' work. The same applies to your training room, especially as it's likely to get hot in there quite quickly.
Compact simulators can include 2 PCs, plus the instructor console. Each PC gives off some 250W of heat. For 1 instructor and 5 trainees, that makes 11 PCs – 3250W in all. Adding to that the fact that each individual constantly gives off 100W of thermal energy results in a total of nearly 3.4kW, even with no observers: easily enough to heat a 40m2 room.
You'll save on heating bills in the winter, but as soon as the weather gets warmer, the thermometer will start shooting up. That's not exactly ideal for comfort, concentration, or quality learning! So don't skimp: ventilation and air conditioning are a must.
Adjustable lighting
Natural light is required during discussions between the instructor and the group; a darker setting is needed when they use a data projector and when trainees are working at their consoles. This means the lighting levels in your training room need to be adjustable, in the same way as for a light fitted with a dimmer switch.
If you're in a basement, the room's lighting system is all you have to work with. If you have windows, it will be nicer for everyone – but you'll need curtains to prevent dazzle when the sun is low in the sky, and good blinds for when you want to decrease lighting levels.
Do it in style
Increasingly, our clients are making sure their facilities look good, so as to enhance the status of training in the eyes of their trainees. Simulator work should be a pleasant experience.
It's time to do away with tangled masses of cables snaking across the floor: they need to be carefully concealed in conduits. Consoles no longer have to be rectilinear; we're producing rounded, more aesthetically pleasing designs.
Instead of walls all painted the same colour, we're seeing patterns and wall fabric in the operator's colours. Observers are sometimes installed on couches instead of on upright chairs – without any ensuing loss of concentration.
Training rooms are no longer austere, uninspiring venues: they are now both attractive and practical – and nobody's going to complain about that.
Serge Privat, CORYS Hardware Engineer
https://www.corys.com/en/simulator-range

STEPS is a blog eager to provide answers and to bring up new issues with simulation users.
Its information is based on 30 years of CORYS experience of simulation and on the feedback from our customers around the world, in the field of Transportation, Power and Hydrocarbons industries.