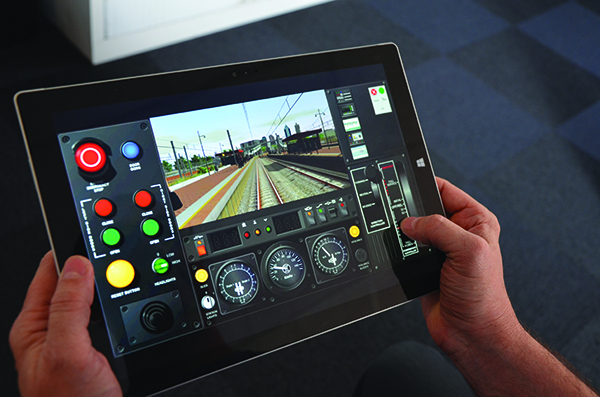 SODA, the CORYS Simulation On DemAnd solution, now provides short, interactive training scenarios on tablets, allowing drivers to train on their own or at a training centre. The solution has been developed together with three European transport operators.
A full simulator on a tablet
SODA naturally relies on an existing CORYS simulator, faithfully reproducing the model, functions and real-time Matrix 3D images used in the latter.
The difference is that it's available on a tablet, anywhere, anytime. This flexibility opens up the way for new educational applications in initial and continuous training.
Driving displays are tailored to tablets, featuring touchscreen capability and often simplified. Functions that are not relevant to a scenario are hidden, but can still be accessed by zooming in.
Trials with 50 drivers and instructors
To develop SODA, trials have been carried out with 50 drivers and instructors working with three European operators.
These have revealed that the adaptations go down very well, and have no adverse effects on the learning process.
Drivers immediately recognise their train and spontaneously adopt the 'tap and swipe' technique, mirroring their everyday interaction with smartphones and tablets, even if it's not something they're used to doing at work.
An additional resource for training centres
SODA offers short, illustrated, interactive scenarios. It's a digital resource, and very different from a conventional simulator, on which sessions may last an hour.
That's because the scenarios focus on practice: implementation, revision, practising tasks, and so on.
In a training centre environment, SODA can serve as a supplementary resource, used on a standalone basis or to liven up a classroom session. Trainers can encourage engagement and memorisation by alternating theory, PowerPoint visuals accompanied by a commentary, and exercises on a tablet.
Making the most of breaks to practice on your own
In standalone mode, drivers can use break times at the workplace (in an office, depot or elsewhere) to practice the topics of their choice. As a result, brushing up on skills becomes a pro-active, committed habit that people can engage in whenever they choose. The expected outcomes are a better grasp of the required knowledge – and quicker plugging of any gaps in it.
For instance, drivers who have been struggling with a particular real-life situation will be able to find just the right training scenario on their tablet, and then test themselves using the multiple-choice questions at the end of each exercise.
Freedom within parameters for trainees
Access to courses is always via the operator's Learning Management System (LMS). Students, courses followed and results are all logged.

Steve Dawson, trainer and evaluator for Southeastern, is enthusiastic about this arrangement:
"This 'freedom within parameters' is a key asset. The main risk would be that of trainees only practising on their own and having no more contact with the training centre.
However, thanks to SODA's feedback functions, errors and shortfalls are identified and, where necessary, the relevant supervisor is notified; they can then choose to look at the subject again with the trainee."
Suitable for a wide range of topics
Trials have highlighted three particularly successful scenarios: starting a train at the depot, lowering a pantograph, and leaving a station.
SODA can of course be used to deal with other topics too, such as regulations, signalling, first-level troubleshooting, and ERTMS.
So far, only three topics appear to be ruled out altogether: detailed training in how to drive trains, job-specific actions that call for a physical environment matching real life, and certification exams. For these three subjects, there's no substitute for a conventional simulator.
Setting up in just a few months
Setting up on-demand simulation for CORYS simulators takes no more than a few months.
On the teaching side, an expert is present for all key stages: defining training scenarios, selecting and developing scenarios, adapting displays, and validating interfaces with drivers and instructors.
Hosted on site or by CORYS
If operators opt for SODA to be hosted in-company, IT analysis is required: this option calls for a server with specific graphics cards, in order to store the application and related data, and broadcast it to the tablets.
Alternatively, CORYS can offer secure server hosting as part of a turnkey service.

STEPS is a blog eager to provide answers and to bring up new issues with simulation users.
Its information is based on 30 years of CORYS experience of simulation and on the feedback from our customers around the world, in the field of Transportation, Power and Hydrocarbons industries.