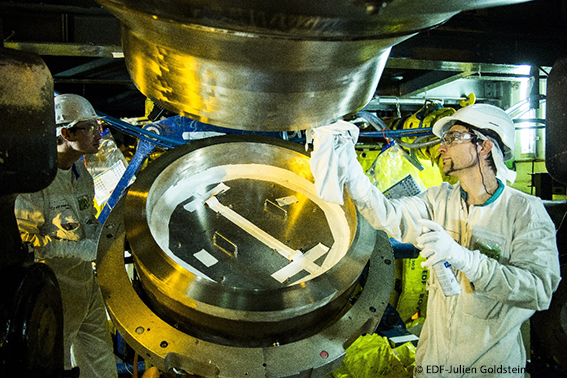 CORYS is developing an engineering simulator for EDF, dedicated to alterations for existing installations. It will enable the impact of updates to be predicted, analysed and adjusted, thereby helping to ensure the predictability of unit shutdown time.
This development represents a major step change. At present, examining and monitoring alterations relies on an expertise-type approach, combining document-based work and calculations using dedicated computer codes.
Measuring the impact of an alteration on an entire unit
At present, the scope of evaluation for the impacts of alterations is limited to just one system or one part of I&C. The effects on peripheral systems, interactions between the various effects, and so on, cannot be covered.
To address this issue, SIRENE, the engineering simulator currently under development, will cover an entire unit. It reproduces equipment and its operation, as well as interactions between systems, using equations based on real-life physical data.
"Personnel will be able to test their alterations as though they were implementing them in real life, with the added bonus of a broader test scope," explains Catherine Coutelou from CORYS.

Unit shutdown times are more predictable – and therefore cheaper
The main benefit for operators is that problems related to the design and the integration of alteration work can be detected and corrected at a much earlier stage, thereby minimizing the risk of prolonging unit shutdowns (with the resulting operating losses) due to problems being identified too late.
This potential has led EDF to consider much broader applications – in particular, extending the use of the simulator (known as SIRENE) to all nuclear unit configurations currently in operation in France. Indeed, alterations are frequent: they may take place during a ten-year inspection, a unit shutdown or during fuel reloading operations.
In late 2016, CORYS will deliver a 900 MW CP1 simulator replicating unit conditions after the third ten-year inspection (VD3), and then participate in the updates planned in the frame of the fourth (VD4) from 2017.

Pooling certain parts of existing simulators
To keep to budget and meet deadlines, SIRENE will be created by pooling key parts of existing simulators, using CORYS' Alices® software workbench.
The models will come from Sirocco training simulators currently in use by EDF, although some of them (primary circuit thermo-hydraulics, core neutronics, etc.) will need modernizing. The engineer console will be based on the Trèfle instructor console, the engineering simulator that was used to design the Flamanville 3 nuclear power plant.
Ultimately, CORYS will be supplying three hardware configurations to EDF, installed in Lyon, Tours and Marseille. Engineering teams based in other cities will also have access to them via the EDF network.
A major change in engineering practices

Jérémy Carrion
EDF project manager for SIRENE
What benefits are you expecting with this simulator?
I can see three: eliminating the very expensive need to subcontract certain types of design work; doing away with the need for a team of four operators, sometimes for a whole year, to validate settings; and faster responsiveness for one-off analysis of discrepancies noted by the Nuclear Safety Authority.
In addition, alterations will of course be faster and more efficient, although it's hard to put numbers on that.
Are you not concerned about reluctance in the face of changes to engineering practices?
The feedback from Trèfle, the Flamanville 3 design engineering simulator, has been so positive that all our engineers responsible for alterations have heard about it! Operating engineers, for instance, much prefer to test a procedure on simulators, rather than working on paper without any possibility of validation.
https://www.corys.com/en/new-build

STEPS is a blog eager to provide answers and to bring up new issues with simulation users.
Its information is based on 30 years of CORYS experience of simulation and on the feedback from our customers around the world, in the field of Transportation, Power and Hydrocarbons industries.