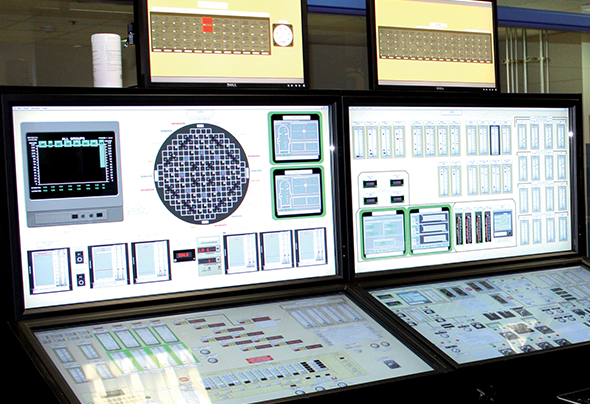 Featuring touchscreens measuring over 1.3 m across which can be moved from one room to another, panels reproduced with astounding realism, and a direct, real-time interface with simulated models… Glass panels are opening up a whole new era in simulating the operation of power stations.

Extending the scope of factory trials

Simulating a new control room

Conducting part of initial training

Enriching the training of engineers and technicians

Extending the scope of factory trials
The project to renovate the Calvert Cliffs simulator in United States made extensive use of glass panels for the Factory Acceptance Tests (FAT).
The client itself agreed that the tests were far more numerous and varied than they would have been without this resource: carrying out the tests in-factory without the major constraint of having the full-scale simulator available meant that there was no time limit on trials.
By the time it comes to integration on the actual simulator, many issues will already have been detected and corrected.
This will give the operator a choice between tests confined solely to regulatory tests (with ensuing time savings that can be measured in weeks), or alternatively conducting additional tests if they wish to carry out further validation of the renovated equipment.
Both of these options are also possible in the case of a new simulator, provided the glass panel is connected to the models.


Simulating a new control room
Rather than constructing wooden mock-ups or validating a new control room once it has already been installed – by which time it is hard to go back – why not simulate it using glass panels?
For the Ling Ao II project in China, for instance, a virtual panel was built for each of the standard fallback consoles.
This makes it possible to simulate the entire room, validate the geographical layout of equipment, involve operators in carrying out transient states, conduct human-factor studies to assess the impact of alterations for new configurations, and so on.
Since the glass panels are mounted on wheels, it is easy to test a wide variety of alternatives and gradually build the ideal solution. The actual control room can then be installed and cabled, while the glass panels can be freed up for training purposes.


Conducting part of initial training
Although the issue has been the subject of much discussion, glass panels are not yet used for operator accreditation or during annual skills maintenance cycles.
These relate particularly to incidents and accidents, for which the training tool must be faithful to the actual installation, right down to the actual operational gestures. However, there is no reason not to use virtual panels for part of initial training.
For instance, in the first two weeks of an eight-week course, they can be used to familiarise trainees with the general workings of the power plant before moving onto operations using the full-scale simulator panels.
"The age pyramid of operator populations means that we now require major recruitment and training programmes," notes Pascal Gain, head of the Energy business unit.
"One consequence of this is a considerable load on many simulators. By using glass panels, it will be possible to smooth this transition without carrying out training at nights or on weekends."
Another possibility, for power stations with a number of similar reactors, is to train operators on a single full-scale simulator, supplemented by glass panels.


Enriching the training of engineers and technicians
High loads on simulators also limit the training possibilities for young engineers and technicians. Few of them have the opportunity to carry more than a couple of routine operations on the full-scale configuration during their early years in the job.
This is not critical, but unfortunate: sooner or later they need to have "had the controls" to have a really intimate understanding of how a reactor works, what operators do and the kind of things that make opening or closing a valve during a shift a matter of urgency.
The arrival of glass panels opens up new possibilities, and these have already been envisaged at Calvert Cliffs: engineers and technicians will most probably train on this resource in addition to their theory course.

Left: real Panel / Right: simulated Panel
https://www.corys.com/en/power-portail
https://www.corys.com/en/new-build

STEPS is a blog eager to provide answers and to bring up new issues with simulation users.
Its information is based on 30 years of CORYS experience of simulation and on the feedback from our customers around the world, in the field of Transportation, Power and Hydrocarbons industries.