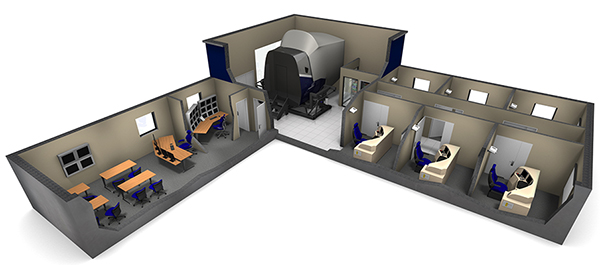 Designing and fitting out the training room where your fullscope simulator is to be housed means thinking about dimensions, safety, comfort – and communication. Operators are now eager to show off their equipment to highlight their training policies.
Footprints and floor loads
The first things to think about when selecting where to put your fullscope simulator are how much space it's going to take up and whether the floor can bear the weight. The cabin itself is usually 2.50 m wide, 3 m long and 2.3 m high. It can easily weigh as much as 2.5 tonnes – and up to 2 or 3 tonnes more if it includes a motion system.
The static floor load can quickly reach 2000 kg/m2, including the dynamic stress generated by the motion system, which requires the motion system to be anchored to the floor. In short, a fullscope simulator cannot be installed just any old place.
Existing or purpose-built facilities?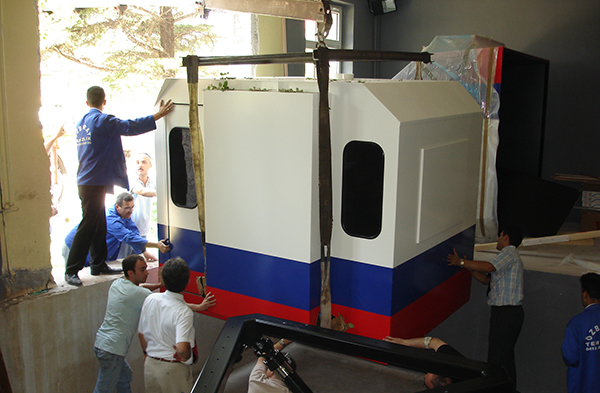 The ideal solution is to build dedicated premises. CORYS can work directly with the architect, as was the case in 2008 with the new training centre for Dutch operator NS.
The point of partnering like this is to ensure that the simulator will be able to get into the facility, despite its imposing dimensions. For Indian Railways in 2004, the simulator was brought in through an incomplete section of wall, filled in once it was in place.
In the case of existing buildings, access must be checked. Stairs, winding corridors, and narrow doors can all pose problems. In 2011, RATP's fullscope simulator had to be designed from scratch in smaller modules, each with maximum dimensions of 2 m x 3 m x 2.5 m and weighing less than 350 kg, to ensure it would fit.
Three rooms are better than one
The job's not over once the cabin is in place, either. The instructor and any observers will also need a room, as will IT equipment (fullscope simulators with several visual channels often require 6 PCs) and the compressor powering the motion system.
Technical premises must not be too far away from the cabin. For distances over 30 m, video cabling signal loss is significant, as is surrounding electromagnetic interference, and it becomes very expensive. Again, a purpose-built facility makes things much simpler.
Safety requires space and visibility
A safety perimeter must be put in place for simulators fitted with motion systems, dimensioned to cater for the most extreme movements of the cabin. For instance, a 5-DOF motion system can move the cabin forwards and backwards by up to 0.7 m, and sideways by up to 0.25 m.
There must be at least 50 cm clearance between these extremes and the nearest wall, so that there is no risk of anybody being inadvertently crushed between the cabin and the wall.
Another safety aspect to be borne in mind is that instructors must have a direct view of access to the cabin, so that they know whether a trainee is present inside or not.
If this is not possible, a CCTV system may be used instead, but this does not allow the trainee to meet the instructor and get final instructions before starting a session, so it should be a last resort.
Image and PR: simulators in the spotlight

Given all these limitations, it's easy to consign fullscope simulators to the depths of cold, functional hangars with bare concrete walls. This would be a mistake. In recent years, our clients have started to use their simulator as a PR tool, sometimes even as a showpiece, displaying it for all to see.
In the Netherlands, NS has installed its training centre, fitted with huge windows, in the middle of the rail tracks, in full view of passing passengers. Prasa has done the same thing in Johannesburg, with a fully-renovated, windowed building. In Kazakhstan, too, the railway simulator is visible from the outside.
Inside, one can find fitted carpets, wall coverings, bright colours, relaxation areas, couches, and eye-catching fittings. Simulators have come in from the cold: today, they are proud to bear witness to a culture of excellence – and the fact that driver training is a priority.
Serge Privat, CORYS Hardware Engineer

STEPS is a blog eager to provide answers and to bring up new issues with simulation users.
Its information is based on 30 years of CORYS experience of simulation and on the feedback from our customers around the world, in the field of Transportation, Power and Hydrocarbons industries.