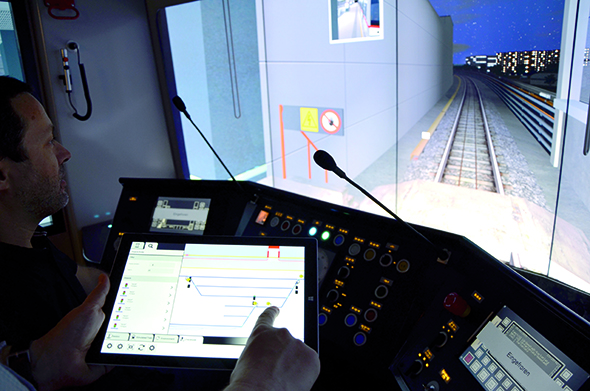 Sporting all the features of a conventional instructor station along with a touchscreen-friendly interface, Tactis will deliver huge time savings for trainers – and allow them to leave the supervision console if they opt for the tablet-based version.
All the touchscreen power of your tablet
The Tactis instructor station will be fitted to all CORYS simulators ordered from mid-2016 onwards, as well as being available as part of renovation projects. Its most significant advance is that it offers just as much touchscreen functionality as the best tablet-based apps. Point to an object to control it, swipe to move along a track, and pinch or stretch to zoom in or out.
For those for whom old habits die hard, Tactis remains compatible with keyboard and mouse, but it's hard to resist the new approach. Touchscreen use is highly intuitive, and makes each task that much quicker.
Instructors will save precious time when it comes to preparing and validating scenarios, as well as when learning to use the device.
A new, touchscreen-friendly look & feel
Tactis offers all the functionality of a conventional instructor station for both PCs and tablets, complete with an interface wholly designed with touchscreen use in mind. It's simple, intuitive, and understandable right from the first few moments of use.

"It's taken us over one year to develop, working together with specialist researchers. We also sought input from clients in seven countries throughout the design, evaluation and validation stages," says Stéphane Mégy, lead designer for TACTIS.
Travel the tracks without ever getting lost
Features include a graphics-rich design, highlighting business objects such as signals, trains and points. A brand new 'perspective view' allows the entire track network to be viewed at any time, enabling users to travel along lines without getting lost.
Dialogue boxes have been done away with, so that nothing gets in the way of the simulation itself. Menus and lists are based on icons or thumbnails depicting the precise status of the objects in question.
If a number of items overlap in a dense area, they can easily be separated and sorted with a flick of a finger. And if an instructor wants to locate, say, a speed limit they have imposed on a 30 km section of track, the universal search function finds it in no time at all.
Tablet-based mobility opens up a host of new possibilities
The basic version of Tactis is for use on a PC, but operators can add tablet-based use as an option, opening up a whole range of possibilities:
freeing up the operator from their supervision console, allowing them to dialogue and interact with observers
getting closer to students: clearer observation and understanding of individual progress, reactions and comments, as the action unfolds
scenario validations by a single instructor, on the student console – particularly useful in replica simulator cabins.

"This mobility will allow plenty of new uses," predicts CORYS Account Manager Denis Milhet. "During experimentation, our clients were already imagining how they could do things more flexibly as a result, and thereby improve training quality and productivity."
https://www.corys.com/en/transportation-portail

STEPS is a blog eager to provide answers and to bring up new issues with simulation users.
Its information is based on 30 years of CORYS experience of simulation and on the feedback from our customers around the world, in the field of Transportation, Power and Hydrocarbons industries.