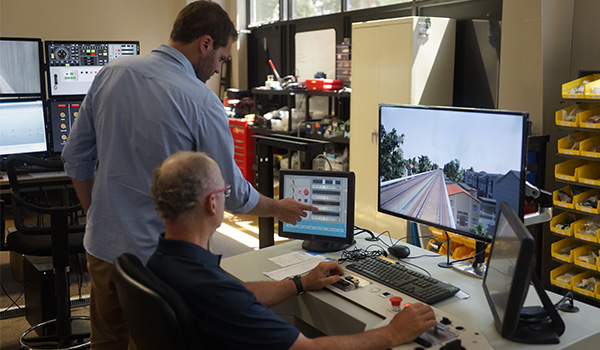 CORYS transport simulation provides training for numerous rail companies around the world. Training simulators can be implemented in two scenarios. First, a simulator can be created for an existing train. And second, a simulator can be created for a train that is still under development. The latter case enables rail companies to increase their training efficiency. But the process is not without its challenges
Managing change
To create a simulator, CORYS has to work with a data package known as a freeze state. In other words, CORYS engineers create a simulator based on all the data available at a given date. In the case of a pre-existing train, the available data is pretty much set in stone. However, when a train is still under development, changes are a given. One of the major challenges to creating a simulator in such cases is the ability to manage modifications that occur throughout a train's development.
In general, CORYS will set two dates in collaboration with its client. Each date will be the deadline for a freeze state data package. The first date will enable the creation of a simulator and the second date will provide data based on which CORYS engineers will analyze the gap between the existing simulator and changes made to the train's design. By exchanging with the client to set the most appropriate dates, these two freeze state data packages will cover 99% of the changes made to a train under development.
Balancing perfection and costs
Even when the two dates are properly set, many details will change throughout a train's development. Changes can range from the color or size of a button to a screen or the entire driver interface. Implementing these changes in a simulator is not only a matter of material. The cost is also greatly impacted by the time spent re-coding a simulator to account for changes. In order to ensure client satisfaction and the project's viability in financial terms, CORYS focuses on communicating early on with both the train manufacturer and the rail company in order to ensure everyone is on the same page.
Data management
A detailed and up-to-date data management process is essential to provide a satisfactory training solution. When a simulation provider is working on creating or modifying a training tool, the key to efficiency lies in ensuring simulation engineers have access to the latest documents and data. When communication and data sharing are efficient, launching a simulator early on in a train's development is an excellent option that will speed up training before the arrival of a new train.

STEPS is a blog eager to provide answers and to bring up new issues with simulation users.
Its information is based on 30 years of CORYS experience of simulation and on the feedback from our customers around the world, in the field of Transportation, Power and Hydrocarbons industries.