Tramway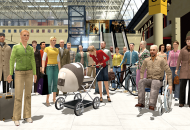 Passenger simulation reaches an unprecedented degree of realism and accuracy, introducing dozens of different people waiting on a platform, getting on and off trains, blocking a door, getting a bag accidentally stuck in it, and more.

STEPS is a blog eager to provide answers and to bring up new issues with simulation users.
Its information is based on 30 years of CORYS experience of simulation and on the feedback from our customers around the world, in the field of Transportation, Power and Hydrocarbons industries.