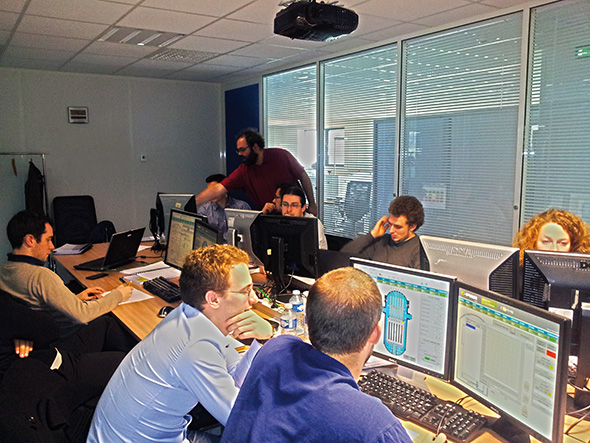 CORYS is extending its range of PC-based training resources to enrich classroom training and accelerate simulator-based training. The resources feature all the key topics: basic principles, the detailed workings of systems, and abnormal and accidental situations.
Halfway between theoretical classroom training and full scale simulator practice, PC-based training resources deliver an intermediate and highly productive stage.
"Our PC-based resources have already been used by several thousand EDF trainees. Every year, we use them for trainings lasting several weeks at GDF-SUEZ, Atos and Rolls-Royce," says CORYS account manager Pierre-Jean Ajovalasit.
Far more effective than whiteboards or PowerPoints
The idea of extending this offering came in response to a number of observations. This resource is far more effective than whiteboards, hardcopy documents and PowerPoint presentations.
"A control setting can be changed and the consequences observed; students can attempt to achieve an optimum operating point and observe the effects of incorrect decisions. It's practical, realistic and dynamic." According to trainers, this mode of practice also results in high-quality group discussions.
Make the main basic errors away from the simulator
For operators recruiting in great numbers to offset retirements, interactive modules are a way to free up space on full scale simulators.
"Students who only have classroom theory to go by will make a large number of basic errors during their initial work on a simulator, wasting time compared to their peers who have already dealt with these issues on an interactive module."
The resources available on PCs are destined for a range of users: operating staff undergoing initial or continuous training, technicians and engineers, young managers on induction courses, and others. They are supplied on DVDs and can be used in classrooms or in e-learning.
"a major step forward for our trainers"
EDF has been using these PWR-M modules for five years now, and they have been adopted by a large number of trainers.
"They see it as a major step forward, explains Pascal Lemaire, Business Officer, EDF-UFPI : trainees can view the dynamic progress of operations, measure the impact of their actions, learn by trial and error, and so on. They apply what they've just learned, and once they've completed the course, we can be sure that they really have understood it."
More information on our PC-based training resources
https://www.corys.com/en/training-tools-programs

STEPS is a blog eager to provide answers and to bring up new issues with simulation users.
Its information is based on 30 years of CORYS experience of simulation and on the feedback from our customers around the world, in the field of Transportation, Power and Hydrocarbons industries.