Maintenance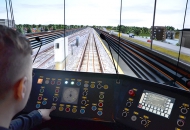 Flat screens are becoming increasingly large, and cheaper, too; as a result, they are tending to replace the projection systems used in transport simulators. However, projectors still offer some major benefits. The following five considerations can ...

STEPS is a blog eager to provide answers and to bring up new issues with simulation users.
Its information is based on 30 years of CORYS experience of simulation and on the feedback from our customers around the world, in the field of Transportation, Power and Hydrocarbons industries.