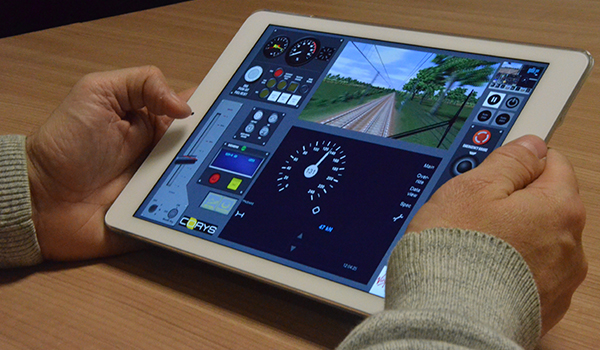 As part of a programme to renovate its eight console simulators, London North Eastern Railway (LNER) equipped its four training centres with SODA, CORYS' Simulation On DemAnd solution. The aim is to validate this training method and use it in more clearly defined ways.
Things are changing at London North Eastern Railway. The eight console simulators installed by CORYS in 2007 were renovated last summer, acquiring new features (including a new software platform and ERTMS). A second renovation project is also underway to add Hitachi's Azuma train, which will be gradually replacing the HST High Speed Train from this autumn onwards.
A natural extension of the new simulators
Last but not least, the UK operator has also benefited from Simulation On DemAnd (SODA) since the end of November. Each of the four training centres has eight permanent access slots, allowing the firm's 350 drivers, who already have their own iPads, to log on locally and independently complete training exercises.
SODA did not form part of the initial specifications. However, it quickly emerged as a natural extension of the new simulator project. "The combination of new trainsets and ERTMS marks a significant change in driving, so drivers will need to master a considerable amount of knowledge in the space of just a few months," explains CORYS Account Manager Marie Pezé. "We've been able to provide them with this additional opportunity to revise a lesson, resolve any outstanding questions on specific aspects, review anything that has not been fully understood, and so on."
An "agile" solution, connected to the simulator
LNER has been particularly appreciative of how agile the solution is because SODA students are not simply confined to set exercises. Using wifi or any other communications network, it can be linked to the driving simulator and train models. All new training exercises become immediately available on the connected tablets.
"The system is ideal for addressing the training priorities of the moment, or topical issues such as a serious incident due to failure to observe a procedure."
Ideally, SODA would have been interfaced with the LNER student database, bringing together all their training results. However, this aspect has been postponed until the operator's new Learning Management System (LMS) is rolled out. For the time being, the training exercise scores are being stored on a dedicated local LMS.
CORYS has also conducted two days' worth of training for instructors. The goal was to train them in how to devise exercises, covering both technical and pedagogical aspects. Training exercises last no more than 15 minutes and include several series of self-assessment questions; this format is quite different from the scenarios used on a simulator.

STEPS is a blog eager to provide answers and to bring up new issues with simulation users.
Its information is based on 30 years of CORYS experience of simulation and on the feedback from our customers around the world, in the field of Transportation, Power and Hydrocarbons industries.