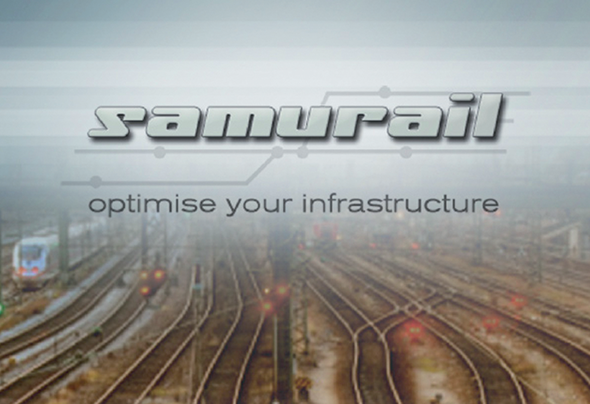 Samurail, the CORYS railway optimisation solution is now based on QT technology, incorporates ERTMS Level 1 and 2 signalling and is opening up to metros and trams. Thanks to continuous enhancements it remains the most accurate and competitive solution on the market.
"2011 marks a turning-point for Samurail," explains Denis Milhet, business officer. "We got together a permanent team of developers, completed migration to QT and above all received orders from industry leading companies."
A host of new features
This makes sense given that around one hundred engineering licences are being used and that through Samurail, CORYS has deployed the very best of its rail knowhow. The firm's simulation business involves handling track routes, rolling stock and signalling, all year round.
The 2011 version of Samurail does not have any major design changes, retaining its module-based structure including Rolling Stock, Infrastructure Editor, Planning, Dynamic Simulation and Presentation of Results.
The innovation resides in a whole host of less visible new features, which together make things much easier for users.
These include more up-to-date graphic interfaces, graphics filters, and multiple selections (e.g. shifting or relaxing the timetables for a block of routes), managing two modules in parallel, incorporation of ERTMS level 1 and 2 signalling, multilingual operation, putting together multiple trainsets, a random fault generator, and so on.
Now opened for metro and tram operations
In addition, specific developments are now possible: "We have already worked on metro operations," explains Denis Milhet. "Samurail recently allowed one of our clients to develop a tram network simulation, incorporating TVM signalling."
Specific developments may also include non-standard points, modified rolling stock, city-specific tram signalling systems, and so on.
This aspect is worth dwelling on: when it comes to rail operations, the devil is in the detail – which can be something as minor as whether a train is running a minute early or late.
Network operators know that difficulties tend to be concentrated at certain points of their network, can be triggered by minor events – and can quickly have exponential effects.
The degree of accuracy to which Samurail simulates and analyses network operations means that every one of these high-impact phenomena is represented.
Trains stuck due to a lack of power
On one occasion, the Samurail team noticed that a train had come to a halt on an open section of track with a steep gradient, simply because it did not have enough power to start up again! This "minor detail" had not been picked up by another, less sophisticated simulation.
CORYS' new version of the softwareis of all the more interest to specialists in rail studies in that it is the most competitive on the market.
Today, without exception, calls for tender specific designs based on several software suites: for design firms keen to expand their range of tools, Samurail represents an economic solution which also delivers performance.
https://www.corys.com/en/transportation-portail
https://www.corys.com/en/freight-rail
https://www.corys.com/en/passenger-rail

STEPS is a blog eager to provide answers and to bring up new issues with simulation users.
Its information is based on 30 years of CORYS experience of simulation and on the feedback from our customers around the world, in the field of Transportation, Power and Hydrocarbons industries.