Custom Operation Training
Simulator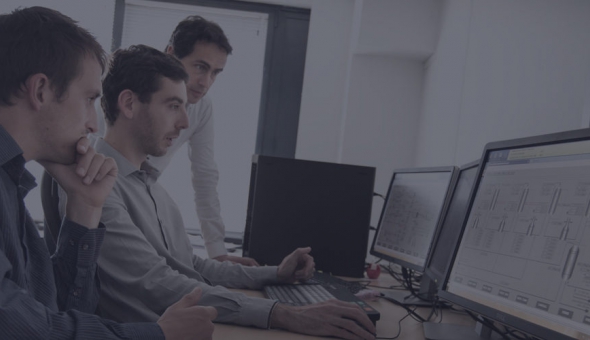 Operator Training Simulators and DCS/SIS Code Validation Simulators (OTS)
Our solutions are based on robust high-fidelity models, offering a dynamic behavior very close to the real process in all transient situations. The result is an Operator Training experience that possesses a high level of realism. The OTS provides customers with the ability to develop Certification Programs for Console Operators.
For new Plants, the OTS provides to Control Engineers dedicated functionalities to verify Plant Control and Safety logics, i.e. DCS/SIS virtual commissioning.
Two options are available to simulate the operating interface for all major DCS (Distributed Control and Safety Systems):
Linked model" (or "direct connect ", "partial stimulation")
The process and third party logics (PLC) are modelled by CORYS; the model is tested with CORYS proprietary control libraries.
Finally the model is linked to DCS soft controllers and graphic interface. Safety logic (SIS) can be either emulated in process model or simulated by SIS soft controllers when available.
"Full scope simulation" (or "full emulation")
The process model and third party logics (PLC), the DCS control and graphic interface and safety logics (SIS) are fully simulated by CORYS. CORYS emulates all major DCS/SIS (Distributed Control and Safety Systems), using specific Control and Graphic libraries and specific graphic displays' translators.
The OTS has the look and feel of the actual Plant Control Room.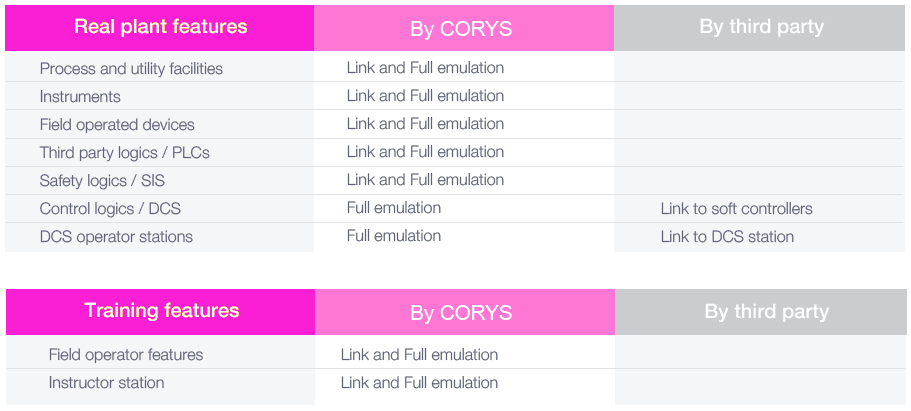 Instructor functions
Instructor functions are intuitive, menu-driven window displays allowing controlling the training session, introducing upset conditions and monitoring student performances with the following features:
Select Initial Conditions
Introduce Upsets / Fail Equipment and Instruments
Save and Recall Snapshots;
Change Battery Limit Conditions
Operate Field Devices
Challenge the Trainee with Abnormal Situations
Because these solutions are based on first-principle models they accurately match process and control behavior over a wide range of normal operating and transient conditions (start-ups, shut-downs, emergency and abnormal conditions). As well, these solutions incorporate essential Training features that support an effective learning interaction between instructor and student:
Start/ stop/ backtrack / speed-up / slow simulation / replay
Create training scenarios and Monitor and assess trainee performance
Simulate instrument malfunctions including field operator actions
Record and monitor any variable, event, alarm, etc.
Load / Save initial conditions