CORYS' Dynamic Simulation Platform
INDISS PLUS® is the latest generation dynamic simulation platform developed by CORYS. Based on First Principles of Chemical Engineering, INDISS PLUS® models accurately match process behavior at normal operations or during transient periods, whether the models are part of a dynamic study or incorporated into an Operator Training Simulator (OTS) solution.

The application has a rich library of Thermodynamics Packages, Pure Components, and Unit Operation Modules.  However, if 3rd party proprietary components, thermodynamics packages or chemical reactor models are required they can be seamlessly integrated within the INDISS PLUS® platform by taking advantage of the multi-layer component architecture.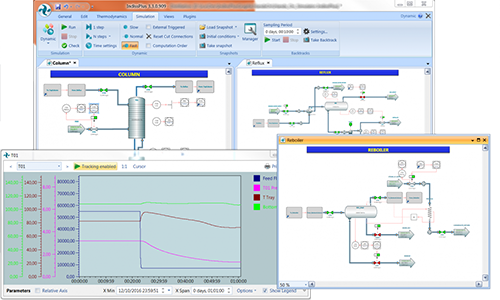 INDISS PLUS® incorporates a Process Diagram Builder (based on Microsoft .NET Framework) to enable users to interactively build their flowsheets using the menus, dropdowns or drag and drop capabilities
Unit Operation Faceplates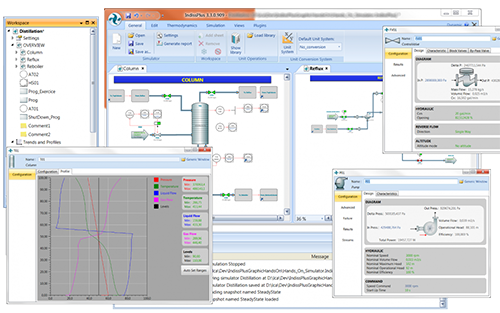 Unit Operation detail can easily be specified through each Unit Operation's Faceplate by filling in the appropriate information in the form of a datasheet
New and Improved Architecture
CORYS has new features available as a result of INDISS PLUS® architecture updates, including:
Custom ribbon toolbar included in the model builder, as well as instructor and field operator stations
Memory improvements to improve speed of simulation
Advanced multi-thread execution capability that allows for parallel processing on computer hardware.
Web-based capability to allow for remote server operation of simulations via thin clients over intranets and the Internet for Software as a Service (SaaS)
Enhanced open environment for easier integration to 3rd party packages such as CAPE-OPEN.
New DCS operator console emulations.
Advanced trending and historization capability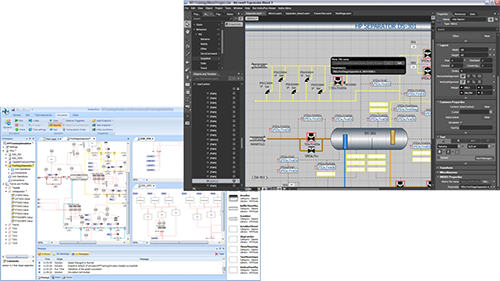 Instructor Viewer Console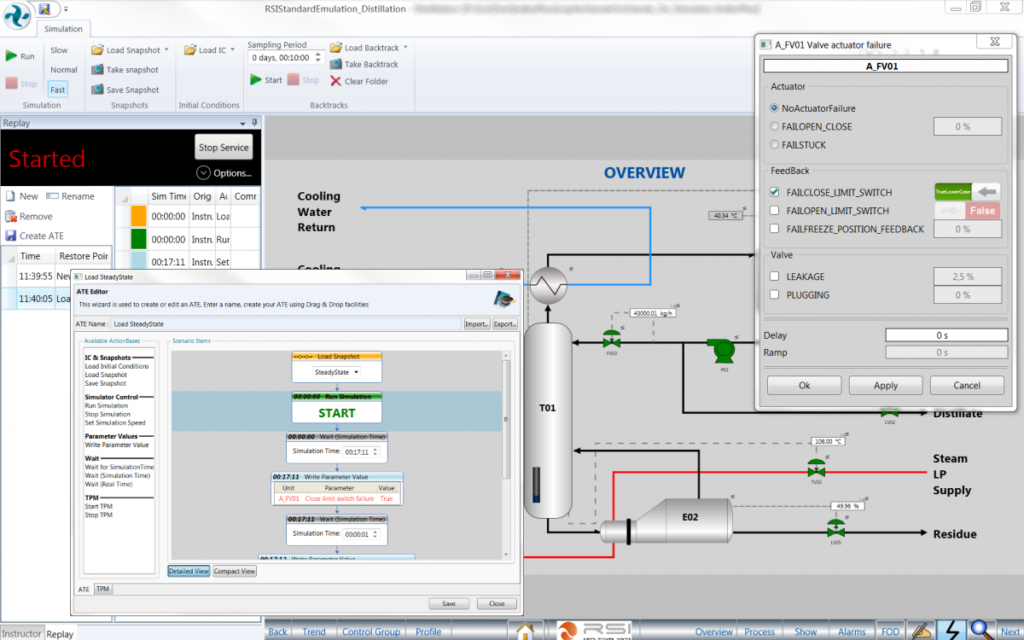 From the INDISS PLUS® Viewer Console, the Instructor can call up displays, load models, insert malfunctions, and perform other tasks during a training session.  The interface is based on plant and simulator specific graphic displays.  Through these displays, the User can monitor the status of the models and directly control selected malfunctions.  The Instructor will also use the instructor station to work on predefined scenarios and exercises for trainee evaluation. Scenarios are called ATE for Automatic Training exercise and evaluation is done using TPM for Trainee Performance Monitor.
The INDISS PLUS® OTS can be easily deployed on the intranet network and connected to centralized training management system (LMS) via SCORM).
INDISS PLUS® was developed with the future of simulation in mind. Within the same INDISS PLUS® environment a model can be developed and progressed throughout the full project lifecycle : design, training, commissioning and start-up, and real-time on-line support during operation.
CORYS provides standardized high fidelity process models for many processes, ranging from standard plant equipment to complex processes.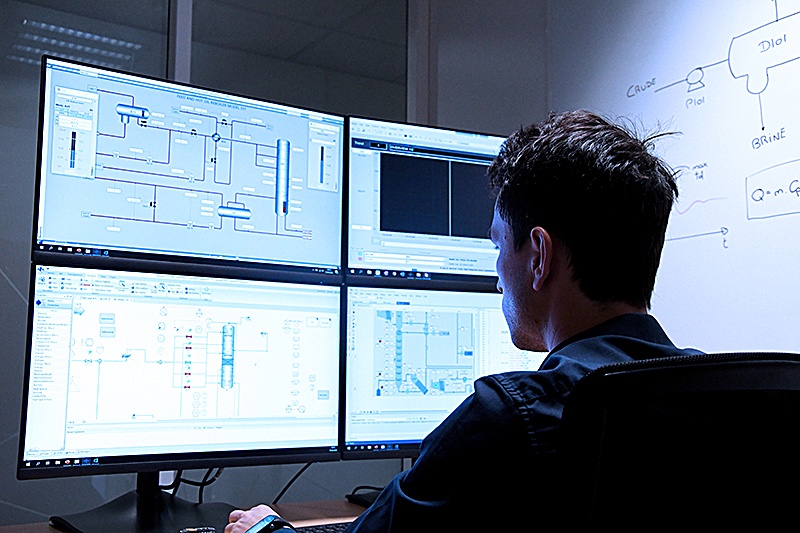 High-Fidelity standard models behave like real process units, used for:
Familiarization with process units behavior
Normal operations at different throughputs
Start-up and shutdown
Equipment malfunctions and emergency conditions
Can be on premise and/or Cloud deployed – train from anywhere anytime for any of their sites
Multiple DCS configurations can be provided
Companion Training Manual (CTM) with customized training curriculum, based on specific customer needs
Contact us today for a list of our standard models
3D Virtual Reality Training
CORYS's virtual reality technology brings together high fidelity dynamic simulation models and plant topography models allowing both the outside operator and console operator to interact with each other as they would in real life.
VRSite® Virtual Reality Software
Main features
Using up-to-date 3D Engine
Open environment with interfaces to third party applications
Three-dimensional simulation of the environment and scenarios of real process operation
Provide interactive operation of the process, as in the real plant in both normal and emergency conditions
The 3D Models can be derived from existing 3D CAD drawings which now often accompany the construction of new units, or from pictures we take of existing older units without up-to-date 3D CAD drawings.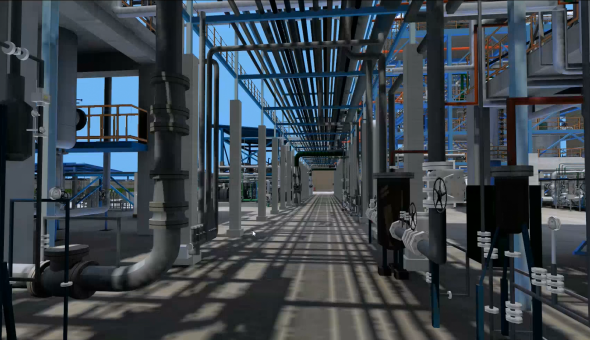 Individual Field Operator Development
The operators will be able to complete exercises in a simulated, high fidelity 3D representation of the real plant. The 3D model provides the most realistic experience and practice for field operators in the safety of a virtual environment. The 3D simulator can also be dynamically connected to a process model allowing for interactions between field and console operators.
Value to Operators
Familiarise plant layout
Learn hazards
Learn plant procedures
Practice standard operating procedures (SOPs)
Shutdowns and all emergency responses
3D Models provide a computer simulated environment for operator safety training. Operators will acquire the safety knowledge needed and be able to practice drills that reduce safety training costs and keep inexperienced trainees away from the plant until they are ready and qualified.
Value to Operators
Practice emergency procedures
Developing new or modifying existing emergency procedures
Hazards analysis
Combined exercises with console operators
Additionally, our software features multi-player capabilities. This allows simultaneous interactions among avatars so that trainees work together as a crew in the virtual plant.
Companion Training Manual
Process training with the CORYS Companion Training Manual™ for High-Fidelity Process Simulators
CORYS offers a unique Operations Training program that enables our customers to develop a comprehensive, unit specific, competency-based methodology for training operations staff using our high-fidelity training simulators.


Working with your Subject Matter Experts, CORYS will develop a customized Companion Training Manual™ (CTM) that accompanies your high-fidelity Operator Training Simulator. The CTM is structured to begin with the process operating at normal conditions, allowing operations staff to gain an understanding of the fundamentals of their units and learn the process relationships between independent and dependent variables. 


The training exercises are designed to build important abnormal situation management skills over the course, beginning with normal operations, continuing with minor upsets, complex control systems, environmental excursions, and eventually building to the most severe process upset conditions and shutdowns. 
The scenarios are organized in the following six chapters :


Chapter 1 – Normal Operations
Chapter 2 – Instrument Troubleshooting
Chapter 3 – Advanced Regulatory Control Strategies and Safety Integrated Systems
Chapter 4 – Unit Emergencies
Chapter 5 – Unit Shutdowns
Chapter 6 – Normal Startup and Shutdown 
CORYS can also link these scenarios to specific customer training outcomes and integrate them into the Learning Management System (LMS).


The CORYS CTM provides a comprehensive training, certification, and re-certification program for console operators, enabling your organization to maintain safe, reliable, and environmentally compliant operations.