Indiss Plus®
Dynamic simulation platform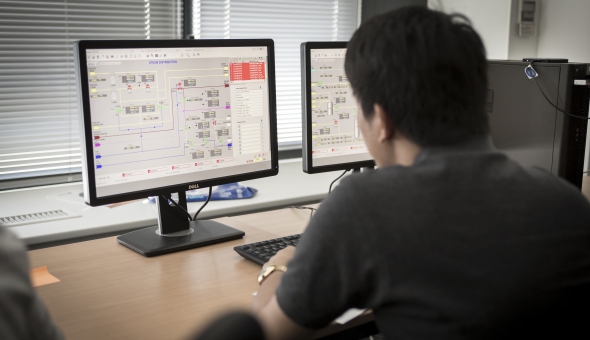 Introducing Indiss Plus®

Indiss Plus® is the latest generation dynamic simulation platform developed by CORYS. Based on First Principles of Chemical Engineering, IndissPlus models accurately match process behavior at normal operations or during transient periods, whether the models are part of a dynamic study or incorporated into an Operator Training Simulator (OTS) solution.
Thermodynamics Packages
The application has a rich library of Thermodynamics Packages, Pure Components, and Unit Operation Modules. However, if 3rd party proprietary components, thermodynamics packages or chemical reactor models are required they can be seamlessly integrated within the Indiss Plus® platform, by taking advantage of the multi-layer component architecture.


Integration of Cape-Open thermo package into IndissPlus® for use in Simulation
Process Diagram Builder
IndissPlus incorporates a Process Diagram Builder (based on Microsoft .NET Framework) to enable users to interactively build their flowsheets using the menus, dropdowns or drag and drop capabilities.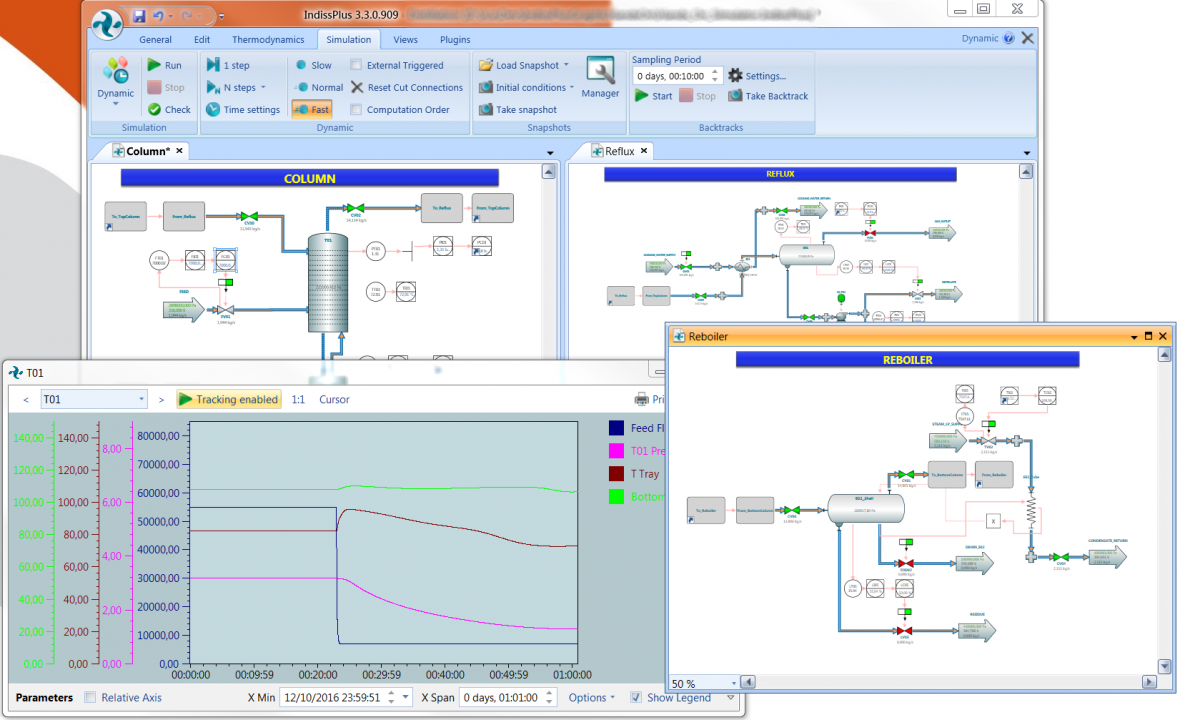 Powerful interactive windows interface to build the Process Flowsheet
Unit Operation Faceplates
Unit Operation detail can easily be specified through each Unit Operation's Faceplate by filling in the appropriate information in the form of a datasheet.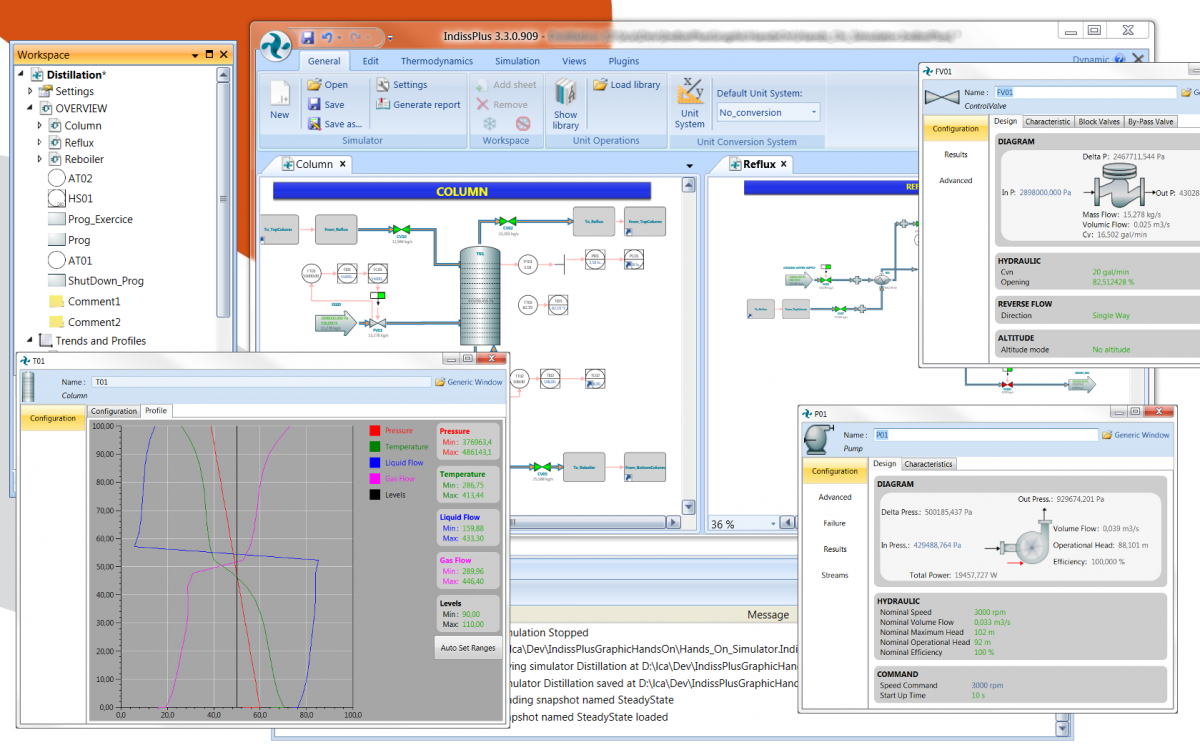 Unit Operation Faceplates to specify equipment information
Revamped software architecture
As a result of the revamped software architecture, enhancements available in IndissPlus are:
The look and feel of the user interface that follows the ribbon toolbar look introduced by Microsoft with the Office Productivity Suite. It is incorporated in the IndissPlus Model Builder, Instructor, and Field Operator HMI's.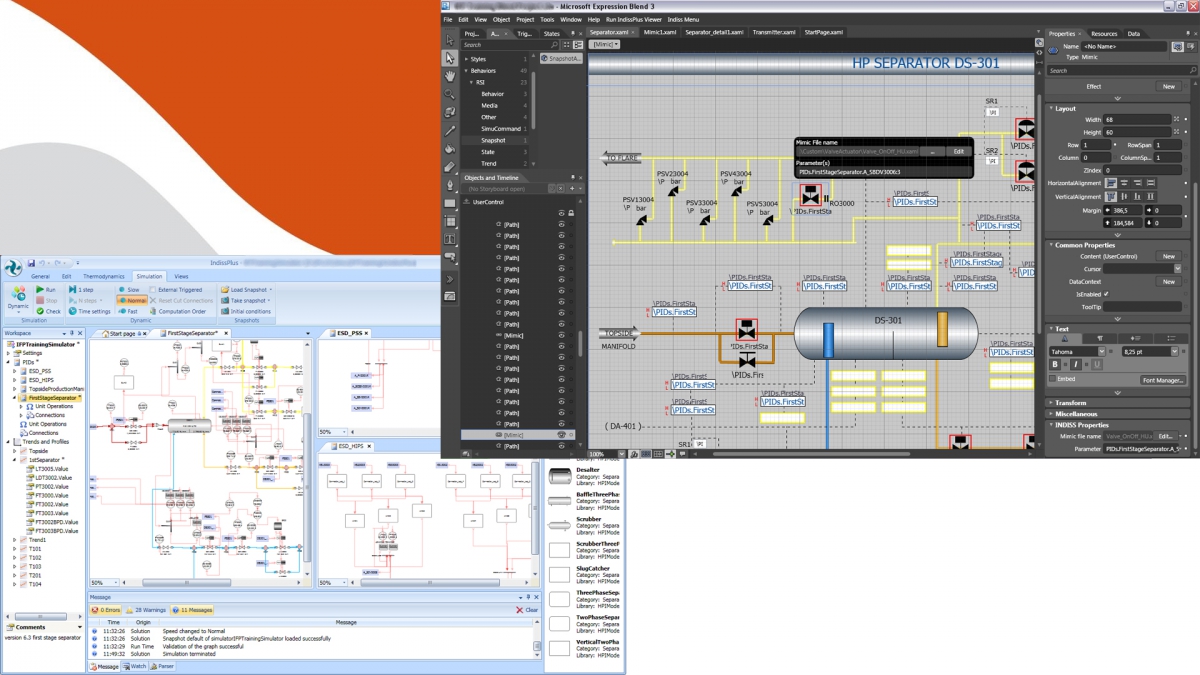 Enhanced User Interface with Indiss Plus®
64-bit software architecture to take better advantage of memory-addressing when running on Microsoft 64-bit Operating Systems.
Advanced multi-thread execution capability. This will enhance the capability for parallel processing on future PC computer chips and hardware.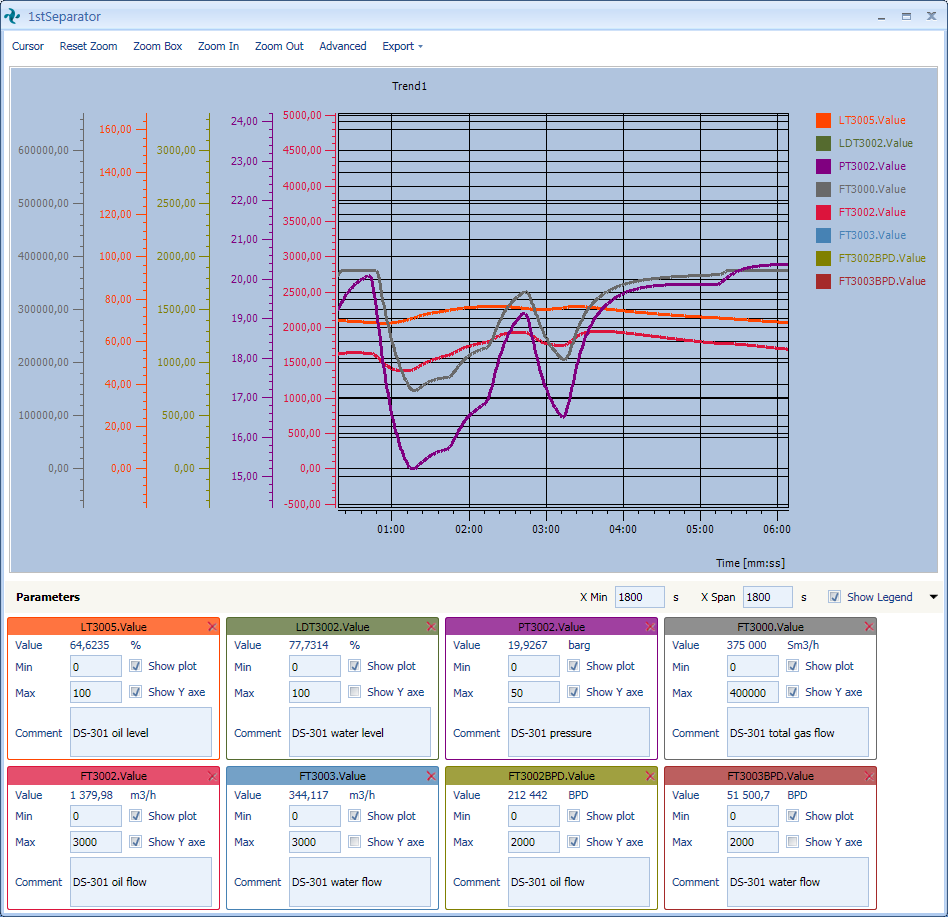 Advanced Trending and Historization capability with Indiss Plus®
Web-based capability to allow for remote server operation of simulations via thin clients over Intranets and the Internet for Software as a Service (SaaS)
Enhanced Open Environment for easier integration to 3rd party packages such as CAPE-OPEN.
New, tightly integrated OPC interface to OLGA multi-phase pipeline simulation.
Revamped and new DCS operator console emulations.
Instructor Viewer Console
From the Indiss Plus® Viewer Console, the Instructor can call up displays, load models, insert malfunctions, and perform other tasks during a training session. The interface is based on plant and simulator specific graphic displays. Through these displays, the User can monitor the status of the models and directly control selected malfunctions. The Instructor will also use the instructor station to work on predefined scenarios and exercises for trainee evaluation. Scenarios are called ATE for Automatic Training exercise and evaluation is done using TPM for Trainee Performance Monitor.
The Indiss Plus® OTS can be easily deployed on the intranet network and connected to centralized training management system LMS (SCORM is used to connect to the Learning Management System).
Lifecycle modeling
Indiss Plus® was developed with the future of simulation in mind. Within the same Indiss Plus® environment a model can be developed and progressed throughout the full project lifecycle : design, training, commissioning and start-up, and real-time on-line support during operation.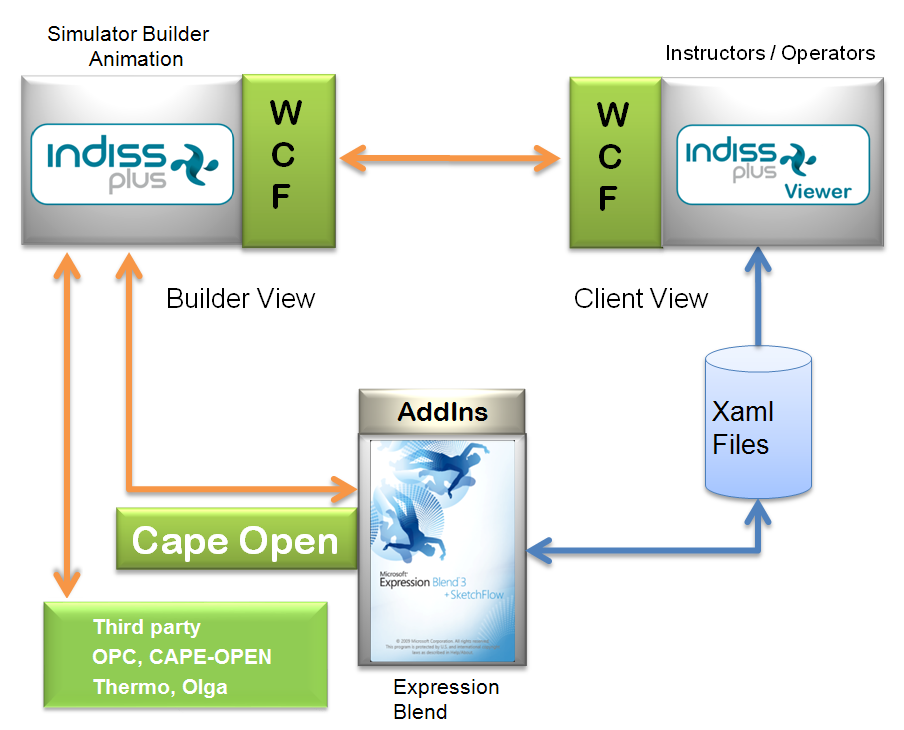 To learn more about our simulation software, please contact us.