Multi-Purpose Dynamics
Simulator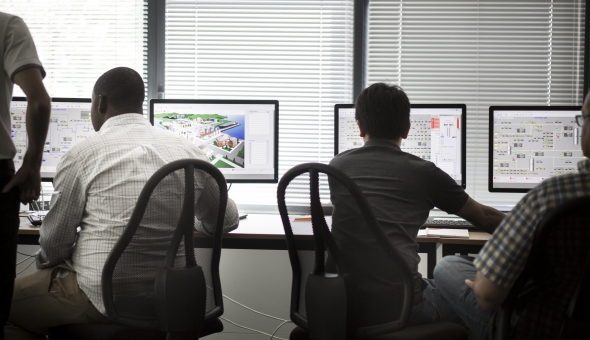 Life Cycle Simulator / Multi-Purpose Dynamic Simulator concept
CORYS has been performing engineering studies and developing Life Cycle Simulators for more than 15 years.
A Life Cycle Simulator is a virtual plant developed and used throughout the different engineering phases and throughout operational phases for detailed design, verification of processes and associated control and safety systems and operator training.
In the early design stage, developing a simulator provides a convenient way of determining the best production scheme and driving critical engineering choices. Based on the chosen design, one can operate a virtual plant to evaluate reliable, safe and optimal operating procedures.
Before commissioning, the virtual plant will then be used to :
Verify control and safety logics
Pre-tune instrumentation
Anticipate the operations
Train operation personnel
During operation, the virtual plant will replicate the real one to anticipate upcoming production, and refine operating strategy.

Dynamic Simulation Studies
CORYS's Engineering Team has gained valuable experience on Dynamic Simulation Studies and performed the following types of studies for major engineering companies and compressor manufacturers:
Compressor Studies (anti-surge, torque, shutdown and settle out pressure, load-sharing)
Cold box, highly thermally integrated process
FPSO and Oil & Gas Platforms Topside Facilities
High Integrity Pressure Protection System (HIPPS)
Safety studies – ESD/SIS enhancement
Emergency de-pressuring and flare relief
Integrated multiphase pipelines and production facilities – Flow assurance
Process design and controllability – Control enhancement
Control and Safety System third party commissioning
As a completely independent solutions supplier, CORYS's team has experience with all major control and safety system. CORYS can provide third party expertise, test and commission all major control and safety systems. CORYS Indiss Plus® process model can be integrated to the offline process automation systems and used to test control system configuration and graphics.
CORYS IndissPlus process model can be linked to soft controllers of all major control and safety systems using OPC DA or specific API.
To learn more about the CORYS's Life Cycle Simulator / Multi-Purpose Dynamic Simulator solutions that can be developed for your project, please contact us.