ENGINEERING TOOLS & PLAFORMS
A consistent set of tools
Building on over 30 years of experience and multiple simulator projects, CORYS has developed a consistent set of tools to support conceptual design and licensing of nuclear reactors.
CORYS' ALICES technology can be used throughout the engineering studies from detailed design until commissioning. It enables the verification and validation (V&V) of each elementary system, then consistent sets of systems, then plant behaviour in general.
Simulation is particularly efficient in helping engineers identify problems and validate corrective solutions from the earliest phase of the development cycle. By providing a virtual view of the dynamic behaviour of complex systems in normal, incidental or accidental operating conditions, design revisions can be anticipated.
CORYS' simulation technology is fast and efficient, thanks to its object-oriented design and its fully graphical interface. Its features have been adapted to be fully integrated in the engineering process. It provides accurate, high-fidelity system modelling tools. Its open architecture allows the easy addition of new modelling objects or code, and interfacing with third-party engineering grade simulation codes, DCS emulator or stimulated hardware.
Basic design engineering studies
Integrated Simulation Platform for Nuclear Plants
Basic and detailed design engineering studies of nuclear plants, such as safety analysis or performance calculations, or probabilistic safety analyses, require using engineering grade simulation codes, such as CATHARE / RELAP5 for two-phase flow thermal hydraulics or COX3D / NESTLE for multi-dimensional neutron kinetics. Several hours may be necessary to simulate a physical phenomenon that takes minutes in real-life.
The need to improve the efficiency of design and analysis tools and to deal with the requirements of the new generation of engineers entering the industry has led CORYS to develop a fully graphical simulation environment that includes:
Easy and partially automated interface for coupling thermal hydraulics and neutron kinetics modelling codes
A very precise and faithful Instrumentation and Control (I&C) simulation associated to a set of tools enabling a fine analysis of I&C behaviour
On-line modification of plant parameters and validation scenarios
On-line data visualization and plotting
Automatic generation of documents based on predefined templates
Tool up your engineering process
The engineering process aims at ensuring, from basic design to commercial operation, the control and consistency of plant design, fulfilling the Safety Authority and customer's requirements in terms of safety, availability, performance and operating conditions.
The use of simulation enables validating progressively each step of the engineering process from basic to detailed design: validation of functional design in upstream phase, then unit validation of each plant elementary system and progressive integration of plant systems, and finally global behaviour of the plant (V&V).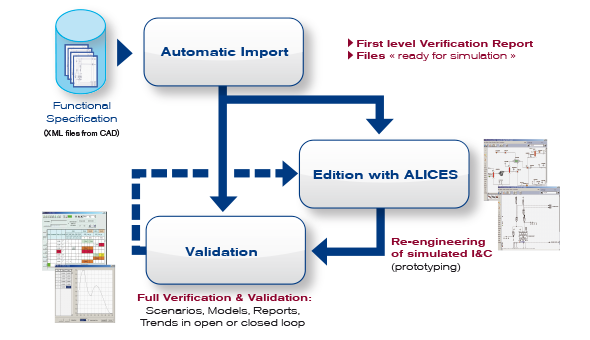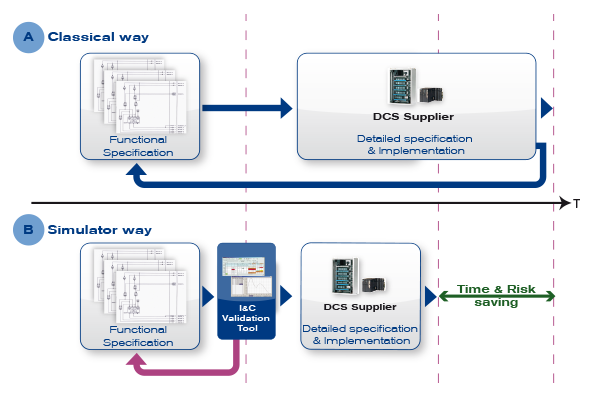 Throughout numerous projects with engineering departments at major utilities and reactor vendors, CORYS has developed a complete simulation environment enabling validation of all design phases:
Open loop validation of the models (process, I&C) of an elementary system
Closed loop validation of the models of an elementary system
Validation of interfaces between elementary systems
Validation of a subset of systems of the plant
Validation of operating MMIs
Validation of the global behavior of the plant
Validation of operating procedures
Preparation of commissioning tests
Hardware in the loop - HIL
Dynamic simulation bench for control system acceptance testing
Extensive testing of complex system automation system is challenging as they are tightly coupled to controlled process and much information required for proper testing are available late in the commissioning schedule.
With a goal of verifying that the automation system fulfills the functional requirements, which is usually not done in traditional factory testing, the use of a plant-wide dynamic process simulator allows testing scenarios that would be impossible to carry out at the site because of the high risks and costs.
CORYS has developed advanced communication control, simulation executive controlling process modelling and standardized I/O interface that can be combined to monitor the performance of distributed control system (DCS) during dynamic transients. It allows a performance metric to be applied against different operation conditions in a full range of process configurations.
Dedicated commissioning simulator, accurate and detailed simulation
The CORYS commissioning simulator saves time and limits risks. It allows preparing the commissioning of a nuclear power plant by running the procedures on a digital twin.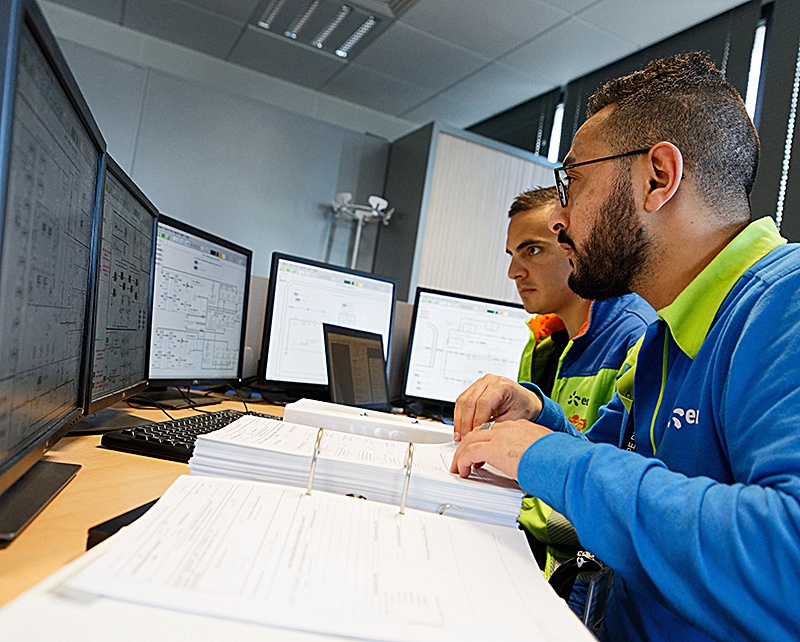 The manufacturer's technology is simulated as closely as possible to reality, with identical function blocks in order to achieve a complete import of the I&C bases. The distribution of logic functions on different PLCs is simulated. The simulation of PLC loss scenarios is realistic like the data transfer time between the different PLCs of the I&C network.
The commissioning procedures can be repeated and adjusted. The understanding and analysis of difficulties arising from the I&C or procedures are facilitated.
The commissioning simulator allows temporary adjustment to the thresholds beyond normal operation. The various diverse signals are identified.
Real time saver
Risk limitation
Debug specification and/or I&C implementation errors
Debug of the commissioning process
MMI familiarization