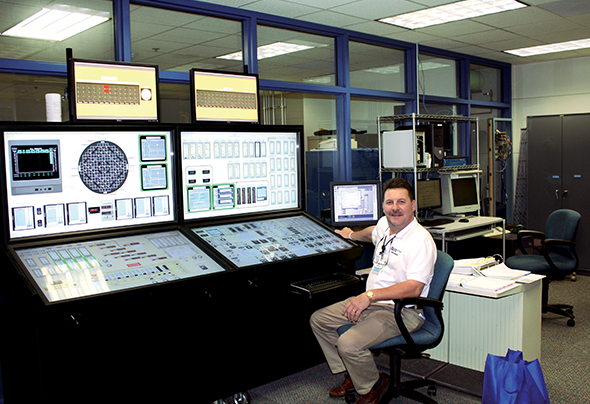 CORYS Thunder is currently undertaking the complete renovation of the full-scale simulator at Constellation Energy Nuclear Group (CENG) Calvert Cliffs nuclear energy plant in Maryland. This includes new hardware architecture, a new instructor station, neutronic and thermohydraulic models and replacement of the input-output system.
Interview with:

Dwayne Robertson,
head of the simulator's maintenance team
A risky option, but a winning one
Wasn't carrying out a complete overhaul in one operation a risky option?
With five obsolete, interconnected servers and a dated input-output system, it was complex, difficult to operate and sometimes even unpredictable. It was more efficient to go for a complete overhaul. The safety and security of our site are our number one priorities. Our job is to create electricity safely, reliably and efficiently.
Pending the installation of the new models in early 2012, have there already been any noticeable improvements?
The input-output system, based on CAN modules, has become incredibly simpler. The job was not an easy one: CORYS' standard modules were not geared to communicating with some of our specific hardware.
Today, however, the difference is spectacular. In the past, if we had a power outage, resetting everything was a challenge. Today, there's not the slightest problem.
Instructors now construct scenarios on their PC
Have instructors started to use their new console?
Yes, and they are delighted to be able to construct scenarios on their PC without having to use the simulator. What is more, when it comes to setting up training scenarios, we now have 300 initial states compared to 69 previously, and we could have created even more: we're no longer limited by the technology.
Do you already have some idea of the quality of the modules?
We've just finished testing the neutronic model. The physical response appears to be very close to that of our actual unit.
This is a crucial issue for us: if the NRC validates the quality level of this model, we'll be authorized to train operators to prepare fuel reloading operations using the simulator, rather than the power plant itself. This will allow significantly fewer reactor shutdowns.
Conclusive on the glass panel, conclusive on the real simulator
What do you think of the glass panels?
The worksite was very tough but we now have an outstanding resource. The glass panels allowed us to check the models' response quality, launch transients and go through a large part of the acceptance procedures, without taking up training time on the full-scale simulator.
They provide a faithful representation of our control room. We have already observed that if a test is conclusive on the glass panel, it's 99.9% certain that it will be on the real simulator, too.
How will you be using the glass panels once renovation work has been completed?
We're thinking in terms of initial training, with interactive exercises for handling the power plant installations, but as yet we are far from having a full view of their potential. Having a mobile simulator on wheels which is an exact copy of the real thing is quite a novelty.
https://www.corys.com/en/power-portail
https://www.corys.com/en/glass-panels

STEPS is a blog eager to provide answers and to bring up new issues with simulation users.
Its information is based on 30 years of CORYS experience of simulation and on the feedback from our customers around the world, in the field of Transportation, Power and Hydrocarbons industries.