While dynamic simulation has long been used and recognized in high tech industries such as nuclear or aerospace, it is still rather unknown in the process industries, especially in the chemical sector.
High-fidelity dynamic process simulators are based on physicochemical knowledge models and the first principles of chemical engineering. They integrate the process model as well as the associated control systems and security logic.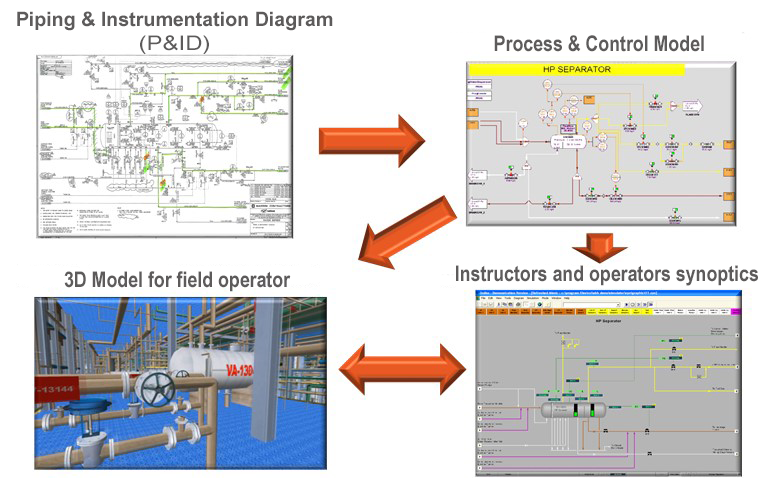 The power of modern computing tools makes it possible to develop dynamic simulators that represent a digital twin of a complete industrial chemical unit.
These simulators can be used
• As design verification tools as well as for controllability and operability studies: digital pilot unit, testing of control systems and safety logic, tests of the dynamic behavior and the operating procedures before start-up.
• As training tools for engineers and operators to manage the process and particularly start-up and shutdown operations with simulator installed locally or with remote access (web / cloud). Simulators can cover both training of control room operators (DCS / SIS) and field operators.
New uses of dynamic simulators
They are now possible especially in support of operation and predictive maintenance. Increased automation of units could lead to a loss of skill. A dynamic simulator is an excellent educational tool for interactive and multidisciplinary training to gain experience in critical transitional phases of operation .
The strongly non-linear nature of physical phenomena has led us to think that the use of physicochemical knowledge models of the process is required in addition to statistical models. Knowledge-based models bring constraints based on physical laws to statistical models.
Future industrial internet platforms will thus have to blend two complementary simulation philosophies: physical and statistical modelling.

STEPS is a blog eager to provide answers and to bring up new issues with simulation users.
Its information is based on 30 years of CORYS experience of simulation and on the feedback from our customers around the world, in the field of Transportation, Power and Hydrocarbons industries.