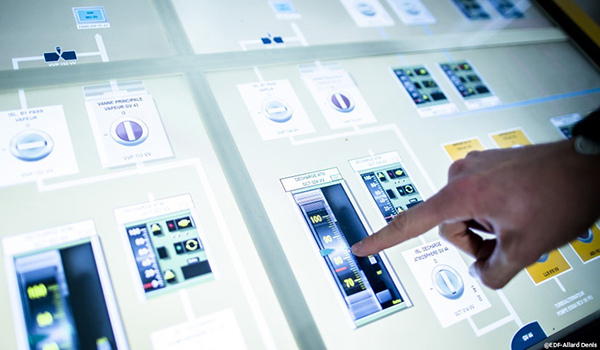 New reactor projects such as the molten salt fast reactor (MSFR) and ICAREx* are still in the preliminary design stage, and won't be built for some years to come. CORYS can already make its own contribution, though, suggesting uses for simulation at ever earlier stages; indeed, doing without a simulator would now be unthinkable for many of our partners.
Just as salmon swim upstream to spawn, simulation is moving further and further upstream in new reactor technology design stages. This is evidenced by the molten salt fast reactor (MSFR) and the ICAREx project, both of which are clearly calling for dynamic simulators as soon as is possible.
"Twenty years ago, when we started extending our simulator applications into engineering, we were pioneers in the field," recalls CORYS' R&D Manager Jean-Christophe Blanchon. "These reactors of the future are taking us a step further in that process. Today, no industrial player would envisage launching such early project stages without a simulator."
An MSFR demonstrator simulator
CORYS is helping with molten salt fast reactors at a very early stage. The scientific code for the reactor provided by CNRS** researchers has been integrated into an ALICES simulator to reproduce the main systems in a nuclear unit, operating the core and interacting with it in real time.
"The aim is to have a demonstrator to prove that the process is viable," explains Jean-Christophe. "This has involved injecting the reactor code into a realistic environment, with the machine room being modelled right through to the generation of electricity in order to offer convincing proof of the potential."
Comparing scenarios before taking a decision
Another innovative example of simulation in use is the digital twin for EDF's ICAREx project, which recently qualified for France Relance post-Covid stimulus funding as part of the nuclear industry modernisation programme. The aim of the project is to test and validate the main assumptions made to operate new reactors, including human factors, as early on as possible.
"To make this resource practical, CORYS will be developing a process simulator, to which it will be connected," says Christian Leo, VP of the Industry & Power BU at CORYS. "If somebody opens a valve virtually, the digital twin will replicate the effect on the process, and feed back the outcome to the engineer."
This adds realism to the digital twin, and makes it more representative of the way the installation will behave. These are vital benefits, encompassing both operation and the human factor during the engineering phase.
"The ALICES solution can integrate design codes from different systems originating with multiple providers and allow them to interact," adds Christian. "At this stage, the goal is not to be as precise as possible but to be able to provide a quick comparison of multiple scenarios. This requires the simulator to reproduce the reactor in its entirety, across a broad operating spectrum, so as to ensure a properly informed decision can be made. As such, it is fully embedded in the engineering process."
Small Modular Reactors (SMRs) are another new type of reactor being taken up by the industry in the USA, China, France (with its Nuward*** project), and elsewhere. As yet, design work is still seeking to decide between several fundamental architectural options. Which should be chosen to ensure optimum reactor performance and operational safety? The answer largely lies in the integrated, simultaneous simulation of all the future reactors' main systems.
Projects such as MSFRs and digital twins far exceed the skill set of conventional software developers.
"You need to be competent in IT and physics, and have a good working knowledge of the nuclear industry, too," says Christian. "In short, you need to be a simulator manufacturer!"
---
* a project bringing together EDF, CORYS, Human Design Group, and Theoris
** Subatomic Physics and Cosmology Laboratory, CNRS Grenoble
*** bringing together French Atomic Energy Commission CEA, EDF, Naval Group, and Technicatome

STEPS is a blog eager to provide answers and to bring up new issues with simulation users.
Its information is based on 30 years of CORYS experience of simulation and on the feedback from our customers around the world, in the field of Transportation, Power and Hydrocarbons industries.