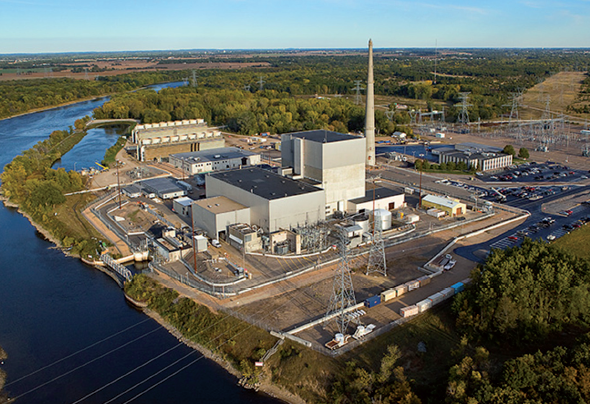 The delivery of a flooding model as part of the training simulator for the Monticello nuclear power plant in Minnesota is a technical first. The aim is to prepare operators for this natural hazard – one that is being monitored very closely by the Nuclear Regulatory Commission.
What does a flooded nuclear facility look like? To find out, all you need to do is open up the model developed for the Monticello simulator. It offers aerial views of flooded areas, along with cross-sectional views of buildings and installations, showing how high the water has risen.
Not easy to assess the situation and respond appropriately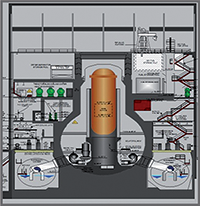 "We can show control operators everything they can't see in real life," enthuses Jody Ryan, CEO of CORYS Thunder. "Their control panels display relatively little information, and a water level reading is not really very eloquent when it comes to assessing the situation and responding appropriately."
Illustrated by these realistic images, the training scenarios offer a highly beneficial supplement to classroom work using hardcopy procedures – the way things have been done so far.
Located on the banks of the Mississippi, Monticello did not wait for stringent regulations to be enforced to take action: as a result, it has benefited from a technical first.
The model uses extremely accurate elevation readings for the river itself, banks, protective levees, buildings, doorways, and so on. Flooding may occur as a result of a natural rise in water levels – whose speed is configurable in the model by the instructor – or due to pipes bursting inside a building.
Equipments stop working as water rushes in
For both cases, simulation is conducted in real time – and draws inspiration from the conclusions of the site's risk analysis: various equipment stops working as water rushes into facilities and reaches a given level.
This accuracy will make trainings even more practical, and can also be used to refine procedures used in the event of flooding.
Despite the unprecedented subject matter, the model was developed in scarcely more than six months. "Getting the dynamic images right was the hardest part," explains Jody Ryan.
The cost of the model is relatively minor compared to the overall budget for a simulator. A public presentation is scheduled for February 2015, at the Jacksonville Conference on Nuclear Training and Education (CONTE).

STEPS is a blog eager to provide answers and to bring up new issues with simulation users.
Its information is based on 30 years of CORYS experience of simulation and on the feedback from our customers around the world, in the field of Transportation, Power and Hydrocarbons industries.