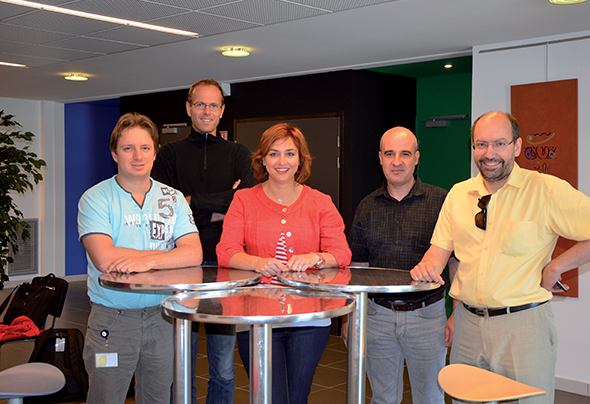 The COMON* project partners are convinced that several months can be shaved off the time it takes to establish control systems. Their chief idea has involved creating a seamless "engineering chain" based on a shared database, enabling each partner's work to be built on and validated more quickly.

The state of play: a fragmented, discontinuous process
Today, construction of a nuclear power plant control system is split between a number of suppliers working in parallel.
Each supplier validates their own scope, but validation of the overall system occurs very late in the process and can involve long and costly rollbacks.
What is more, the tests carried out by each individual supplier are never re-used by the others, and many documents exist only in hardcopy form. This leads to multiple discontinuities.

Creating a seamless "engineering chain"
COMON's key idea involved creating a shared database for all suppliers, using standard interfaces to share data.
Initially featuring the client's engineering data, this database is used to manage changes in requirements and specifications during the course of the project.
Each supplier makes use of the data that is relevant for them, produces code, validates it, and then returns specifications that can be encoded.
A test bench powered by Alices© then certifies the executable specifications of each supplier and simulates the entire system. This makes it possible to achieve functional validation of the full control system, before the final code is written.
This process has been successfully completed with a simplified, virtual system, including every level of process control, such as critical actions of the safety protection system (level 1).

Extremely powerful testing tools
Most Instrumentation & Control testing tools are deterministic. That means they execute a large number of scenarios to attempt to identify faults, but cannot guarantee that the system is completely fault-free.
Tests by the Verimag research laboratory, a COMON partner, take a different approach; they check the expected properties of the system one by one, for all possible input values.
Based on formal validation methods, these tests have proved to be extremely powerful, although of course, they can only be executed using complete control systems relating to a single process.

After Common, comes Cluster Connexion
The COMON project concluded with the hardcopy publication of a data "meta-model". A new research project, Cluster Connexion, is now carrying on where COMON left off. CORYS is again involved, alongside EDF R&D, AtoS Worldgrid, Rolls-Royce, AREVA, Alstom and other partners.
Meanwhile, Verimag's formal validation tests can now be used by each of the partners, including CORYS.
Lastly, the test bench including sub-system engineering workshops (simulation of level 1 and 2), their interfaces and formal tests based on a case study that is representative of the system, is available for each of the project partners.
* COMON (model-oriented design for the nuclear industry), was a research project conducted between 2009 and 2012, with a budget of €3 million and four partners: AtoS Worldgrid, Rolls-Royce, Verimag and CORYS

STEPS is a blog eager to provide answers and to bring up new issues with simulation users.
Its information is based on 30 years of CORYS experience of simulation and on the feedback from our customers around the world, in the field of Transportation, Power and Hydrocarbons industries.